The AAPG's Imperial Barrel Award Program (IBA) is an annual competition involving 5-student teams from universities all over the world who compete in the area of energy exploration and sustainability. The teams compete against other schools in the same Section or Region, and the winner will participate in the International competition, challenging the other worldwide regional winners.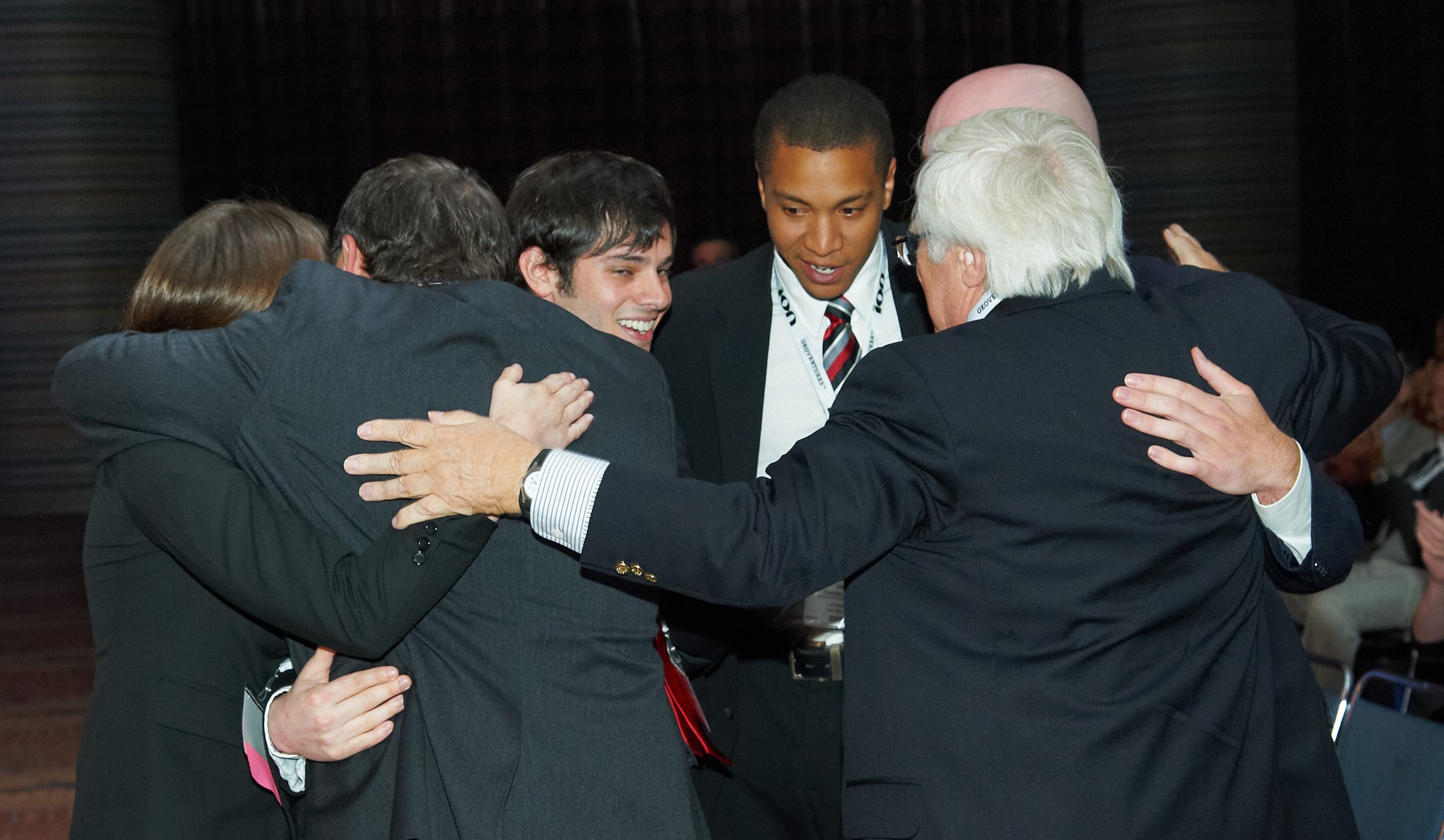 2012 IBA Team and Dr. Lock celebrate the first victory of the International Imperial Barrel Award for UL Lafayette
Over eight weeks, the team analyses real datasets including information on basin's geology, energy system elements, geophysics, and production infrastructures. During the competition, the team members use state-of-the-art technology, they receive feedback from industry advisors, and network with potential employers.
The main goal is to identify prospective resources and determine their viability. The team reports its verdict during a 25-minute presentation to industry experts, who select a winner based on technical quality, clarity, and the presentation's originality. 
The School of Geosciences at UL Lafayette has fielded a team every year since the Imperial Barrel contest's inception. The School's teams won the international competition in 2012, 2014, and 2018.
UL Lafayette is the only team to repeat as champions for the third time, a record that stands!
"This doesn't place the School's teams in exclusive company. It's more like a private club. Over the years, the teams achieved a level of preeminence that's not likely to be equaled anytime soon. It reflects the quality of students the School of Geosciences attracts and the strength of our graduate program" - Dr. Carl Richter, Associated Dean of Ray P. Authement College of Sciences and Professor at the School of Geosciences
Team's faculty advisers:
| | | |
| --- | --- | --- |
| | Dr. Davide Oppo, Assistant Professor of Geology | 2022 - Present |
| | Dr. Raphael Gottardi, Associate Professor of Geology | 2018 - 2021 |
| | Dr. Brian Lock, Professor Emeritus | 2008-2017 |
---
History of IBA at UL Lafayette
Imperial Barrel Award Competition - International Final

Year
IBA First Place
Imperial Barrel Award
IBA Second Place
Selley Cup
IBA Third Place
Stoneley Medal
2007
U. of Aberdeen
Imperial College, London
U. of Oklahoma
  Seven teams were invited to participate - no regional competitions in 2007
 
2008
U. of Oklahoma
Imperial College, London
Texas Christian U.
2009
Moscow State U.
U. of Nebraska
Memorial U., Newfoundland
2010
Institut Franҫais du Petrole
U. of Calgary
King Fahd U., Saudi Arabia
2011
U. Texas at Austin*
U. of Southampton
Sultan Qaboos U., Oman
2012

UL Lafayette*

Khon Kaen U., Thailand
Colorado School of Mines
2013
U. of Utah
U. of Oklahoma
Sultan Qaboos U., Oman
2014

UL Lafayette*

U. of Oklahoma
Colorado School of Mines
2015
Royal Holloway U., England
Pennsylvania State U.
King Fahd U., Saudi Arabia
2016
U. Texas El Paso
Pennsylvania State U.
Colorado School of Mines
2017
U. of Houston*
Eotvos Lorand U., Hungary
Curtin U., Australia
2018

UL Lafayette*

San Diego State U.
Pennsylvania State U.
2019
U. of Houston*
U. Lasalle
U. of Oklahoma
2020a
IFC, France 
King Fahd U., Saudi Arabia
U. of Calgary
2021b
U. Federal do Rio de Janeiro, Brasil
Sultan Qaboos University, Oman
U. degli Studi di Napoli Federico II, Italy
2022
Institut polyt. UniLaSalle, France

UL Lafayette*

Industr. Univ. of Santander, Colombia
2023
King Fahd U., Saudi Arabia

UL Lafayette*

Universidad Central del Ecuador
*   Gulf Coast Section Member
a) UL Lafayette won the Technical Innovation Award
b) UL Lafayette won the Teamwork Excellence Award
North America Region, Regional Competition

Year
First Place
Second Place
Third Place
2022

UL Lafayette

Colorado School of Mines
Texas Christian University
2023

UL Lafayette

University of Calgary
Texas Christian University
 
 
 
 
---

Gulf Coast Section, regional competition 

Year
First Place
Second Place
Third Place
2008

UL Lafayette

U. of Houston
Stephen F. Austin State U.
2009
Texas A & M University
U. Texas at Austin
U. of Houston
2010

UL Lafayette

U. Texas at Austin
Louisiana State U.
2011
U. Texas at Austin
Louisiana State U.

UL Lafayette

2013
Texas A & M University
U. Texas at Austin
U. of Houston
2014

UL Lafayette

Texas A & M University
U. of Houston
2015
U. of New Orleans

UL Lafayette

U. of Texas at Austin and Stephen F. Austin State U.
2016
U. of New Orleans
U. of Houston
Texas A & M University
2017
U. of Houston

UL Lafayette

 (none recognized)
2018

UL Lafayette

U. of New Orleans
Auburn U.
2019
U. of Houston
U. Texas at Austin
Auburn U.
2020

UL Lafayette

U. of Houston
Auburn U.
2021

UL Lafayette

U. of Houston
Stephen F. Austin University
---
The Teams over the years
Year
 
Team members
Dataset
2023
Abigail Watson
Finnmark Platform, South Barents Sea
Margaret Dittman
Peyton Dardeau
Savana Anderson
2022
Hannah Hawkins
Alaska, US
Bryan McCallister
Michael Young
Camron Mire
Aaustin Felmy
2021
Daniella Cimadomo
Faroe, UK
Wiley Griffin
 
Kristen Morris
 
Silas Adeoluwa Samuel
 
Matthew S Harnish
 
 
 
 
 
2020
Natalie Helm
Gulf of Mexico, USA
Samsideen Olamilekan Ajala
 
Ricardo Penaloza
 
Gage Hendricks
 
Joshua Cecil
 
 
 
 
 
2019
Jacob Chicola 
Basque Cantabrian Basin, Spain
Abigail Breaux 
 
Grace Stone
 
Garrett Goettel
 
Cyle Chapman
 
 
 
 
 
2018
Victoria Chevrot
Great Bight Basin, Australia
Greg Ferguson
 
Kohl Koppens
 
Lauren Martz
 
Roxana Vaught-Mijares
 
 
 
 
 
2017
Daniel Friedman
Northwestern Shelf, Australia
Nicholas Jarrett
 
Amanda Johnston
 
Kevin Reece
 
Sydne Workman
 
 
 
 
 
2016
Anne Brennan
Taranaki Basin, New Zealand
Hunter Lipman
 
Zack Ghalayini
 
Joseph Morris
 
Nathan Quick
 
 
 
 
 
2015
 
Logan Adams
Finnmark Platform, South Barents Sea
Jade Bujard
 
Daniel Conlin
 
Duncan MacIntosh
 
Tim Shane
 
 
 
 
 
2014
Jordy Babineaux
Noord-Holland Platform, Schagen, Netherlands
Samuel Ely
 
Nick Geyer
 
Jolie Helm
 
Daniel Sutton
 
 
 
 
 
2013
 
Matt Hebbard
Penobscot Lease, Scotian Shelf, Canada
Samantha Leone
 
Christopher Murley
 
Buddy Simonis
 
Jin Watkins
 
 
 
 
 
2012
Daniel Dudley
Colville Basin, North Slope Alaska
Joey Grimball
 
Chris Hatamian
 
Mike Lahey
 
Sarah Beth Maxwell
 
 
 
 
 
2011
 
Kaare Egedahl
Great Bight Basin, Australia
James Lindsay
 
Adam Kruse
 
Oscar Pacheco
 
Nicholas Whitcomb
 
 
 
 
 
2010
 
Ryan Armbruster
Cooper and Eromanga Basins, Australia
Javier De Palacios
 
Ling Jing
 
Josh Reamer
 
Lauren Salathe
 
 
 
 
 
2009
 
Mark Etienne
Southwest Barents Sea
Roark Franklund
 
Shawn Kusiyama
 
Emily Palmer
 
Matt Tinley
 
 
 
 
 
2008
 
Fleur Bases
Viking and Sogn Graben, North Sea
Derek Hargrave
 
John Rosen
 
John Salsbury